This post may contain affiliate links, meaning if you book or buy something through one of these links, I may earn a small commission (at no extra cost to you!). Please see my disclosure.
Meet the Gypsies : Kamila of Kami and The Rest of the World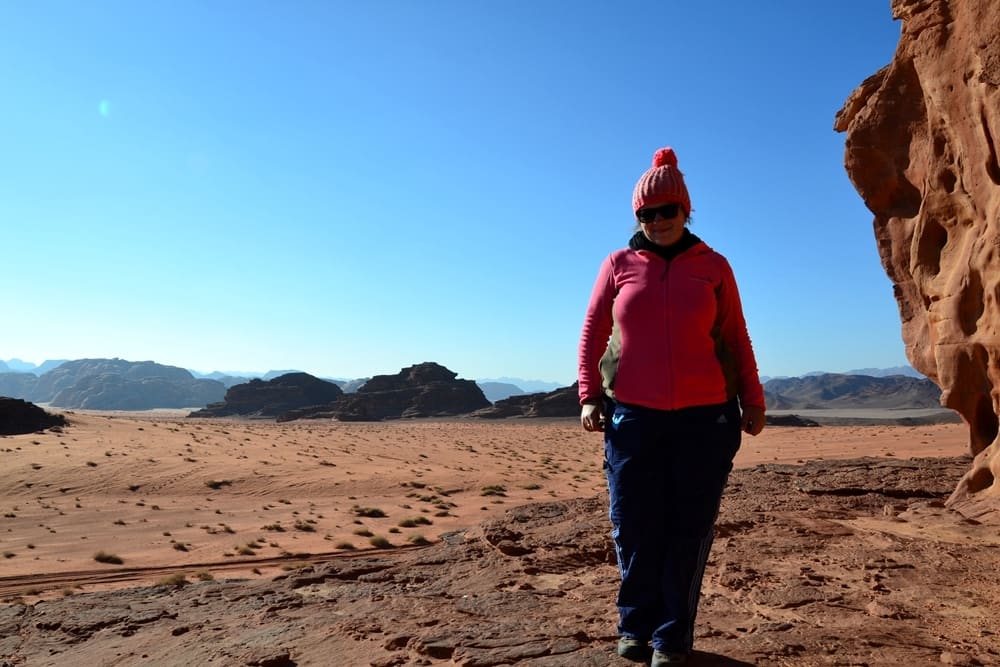 1.  Who are you?  Where are you from?  Where are you now?
My name is Kamila but my friends call me Kami. I'm from Poland, living and working in Warsaw and blogging at 
www.mywanderlust.pl
. I balance full time job with extensive travels, only in 2014 I spent 89 days abroad and 26 travelling around Poland (we get 26 days off per year here) Being based in Warsaw gives me so many opportunities to explore Central Europe and I'm trying to be on the road as much as possible. At the moment I'm preparing for a trip to Iran where I'm heading right after Christmas
2.  What's your packing strategy?  Heavy or light packer?  Suitcase or backpacker?
I learnt to pack very light and almost always use a backpack. I remember first trips when I carried way too many unnecessary things with me because they seemed the most important at that time. Right now I came to the perfection and even for 3 weeks I can go with carry on only. I don't have any tricks but I always roll each clothing item as it really saves the space!
3.  How do you afford your travels?  Budget traveler or lean more towards luxury?
I used to be a budget traveler, now I like to call myself frugal. I don't mind spending a little bit more for a private room in the hostel or for some good local food but I don't like buying unnecessary things  or dining in the fancy restaurants if I know I can get the same quality somewhere else for less. There's no magic trick how I afford my travels since I have a full time job but I wish there were 😉
4.  If you could go anywhere tomorrow, where would you go?
Iran but I'm going there in 2 weeks anyway so I guess it doesn't really count! Then the next dream destination for me is Central Asia and all the -stans! For some reason I can't really explain I'm fascinated by the former Soviet countries as visiting them is always an adventure! Wherever I see pictures from Kyrgyzstan, Uzbekistan or Tajikistan I feel like packing my backpack right away and just go as these places look simply stunning with breathtaking mountains, vast spaces and incredible Silk Road monuments!
5.  Is there anywhere you won't travel to and why?
No, not really. Some countries attract me less than others (like South East Asia) but I still would love to visit them at some point. And I've learnt that even completely uninteresting countries can be fascinating – for example my latest trip to Belarus was one of the best ever!
6.  What's the most adventurous thing you've eaten?
Sadly I'm not a big adventurer in this field… I'm a vegetarian so my food options are pretty limited when I travel. Some countries are pretty challenging to travel in when it comes to food (especially
China
) but there are always some yummy fruits and vegetables I can keep eating!
7.  You are from Poland.  What's your favorite thing about Poland and some must sees and dos?
Poland still seems to be kind of off the beaten path, lots of people visit Cracow but that's about it. And we have so much more to offer! Warsaw where I live is often called a mini version of Berlin as it's developing into a cool and hip place and there's nothing better than a summer time here. Poland has everything you can wish for – seaside with wide sandy beaches, lakes, amazing mountains, beautiful cities and rich history. Since the country is so big the north is different than south and east different than west. I really enjoy living here as I can do so many great weekend travels around as well as I'm in a perfect position to explore Central Europe. Plus our food is pretty awesome 😉
8.  How do you manage working full time and traveling?
I guess by now I'm a master of planning, the calendar is my best friend. I try to plan my trips around holidays so I can save days off, for example in November we had Independence Day that was on Tuesday – we had Monday off as well so with only 3 days off I managed to be away in the Balkans for 9 days. Most of my longer trips are planned this way. I'm also not afraid of working extra hours and I never complain when I have to do so as later on I can take more days off. On top of that I travel 2-3 weekends per month, either around Poland or to surrounding countries. It's really not that hard to balance everything!
9.  You have a passion for reading.  What are you reading right now?
There are actually 3 books on my bedside table and one more in my bag! I'm a big fan of non fiction books and decent travel writing but when I travel I prefer something light and I admit I read even chick-lit (but not too cheesy one!) Right now I'm reading two books about Iran, one about lost cities in Europe and another about Siberia. But my list of books to read is never-ending and what's more I keep buying and getting new ones! I'm a hopeless case here!
10.  What's the #1 item on your bucket list?
I don't really have a bucket list, to be honest 🙂 But the other day I made a list of destinations I'd love to visit in 2015 – of course I won't be able to go to all of them, it all depends on the good airfares but I like looking at the piece of paper with all these amazing places written down! They vary from cities like Bucharest or Bristol to countries like Malta to finally regions like Central Asia or Central America. But then I wouldn't be surprised if I go somewhere else in the end 😉
11.  Most importantly, where to next?
As I've already mentioned I'm going to Iran soon, with a stop in one of my fave cities –
Lviv, Ukraine
– on the way. It's been my dream destination for years and I'm really excited to finally go there! Afterwards I have some small trips planned – to 
Czech Republic
,
Serbia
+
Bosnia and Herzegovina
and Portugal and of course some weekends around in
Poland
. I'm really excited to see what year 2015 will bring!
Find Kamila…
Latest posts by Ashley Hubbard
(see all)