This post may contain affiliate links, meaning if you book or buy something through one of these links, I may earn a small commission (at no extra cost to you!). Please see my disclosure.
Meet the Gypsies : Justin & Lauren from Justin Plus Lauren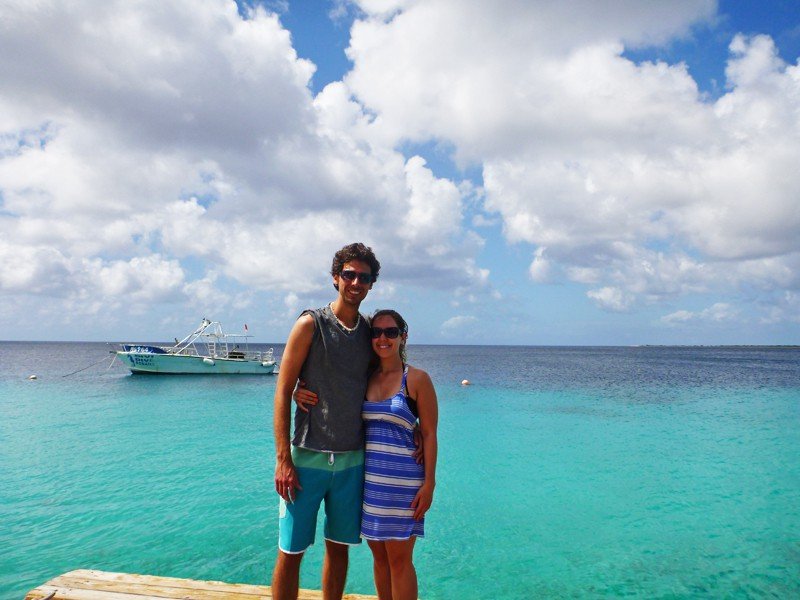 1. Who are you? Where are you from? Where are you now?
We're Justin and Lauren, a couple from Ontario, Canada! For most of the year, we reside in our apartment with our kitty, Chickpea. We like to travel as much as possible, usually taking one larger trip per year and several vacations within driving distance throughout the year to keep us going in between our lengthier travels! Right now, we're at home enjoying the summer weather.
2. What's your packing strategy? Heavy or light packer? Backpack or suitcase?
We generally pack as lightly as possible, bringing all of the necessities. We usually bring a suitcase rather than a backpack as we haven't taken a backpacking type of holiday before. If we're going for a shorter period of time, only a smaller bag would be required. We're getting better at this packing thing as time goes on, improving with age and not bringing too many pairs of pants, or forgetting our sunglasses when headed to a tropical destination (yes, I've done that before…and forgotten my toothbrush as well!).
3. How do you afford your travels? Budget traveler or lean more towards luxury?
We both work full time jobs all year around and save up towards that. We actually wrote extensively about how we save for our travels in a two part series, Tips for Saving Money for Travel Part 1 and Part 2. It is all about setting money aside for travel, and not spending the money that you earn on frivolous things when it could go towards travel! We tend to lean towards luxury as we only travel a few times throughout the year, and we work hard, so we deserve some pampering! However, we don't go crazy with it – we do look for deals, use points, and we might save a little on a hotel here and there so we can spend that money on a nice meal at a restaurant, for instance.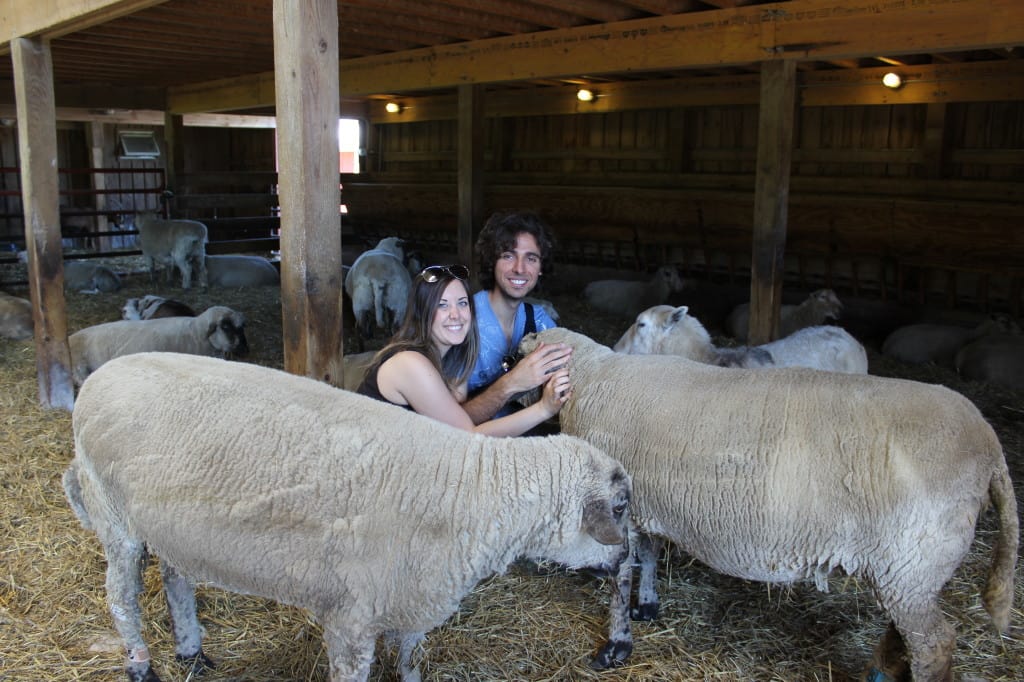 4. If you could go anywhere tomorrow, where would you go?
For me (Lauren), definitely Japan! It has been a dream of mine to visit Japan for years now. I just adore Japanese culture and would love spending time in the cities, Mount Fuji, the temples and shrines, gardens, and everywhere! Another place I'd love to visit is Iceland for the beautiful, majestic scenery. For Justin, he would love to go back to Hawaii, or would love to visit Italy for the culture, the history, and the food! As it turns out, we hope to be headed to Italy next Spring!
5. Is there anywhere you won't travel to and why?
The only place I wouldn't want to travel to would be any place undergoing a war at the moment. I wouldn't want to travel to an unsafe destination like that. I would love to travel pretty much everywhere, and would hope that the places that are currently waging war would someday be peaceful spots that we could visit.
6. What's the most adventurous thing you've eaten?
Well, we're both not terribly adventurous as we both consume a vegan diet – no meat, no animal products (including dairy products and eggs). However, to some, eating a lot of vegan food might be considered adventurous as it would be outside of their comfort zone! We've tried lots of raw vegan meals where vegetables are transformed into amazing dishes that replicate pasta noodles. There have been meals with soy products that totally resemble meat but are completely vegan! So yes, we're not going to start eating bugs or strange animal parts anytime soon!

7. You are both vegans. Do you find this makes traveling more difficult? Any tips for other traveling vegans?
I don't find that it makes traveling necessarily more difficult since we are totally used to finding places and foods that we can eat. Most of the time, we don't have a problem as restaurants can be accommodating by leaving out certain ingredients or adding other ingredients. It may become more difficult if there is a language barrier between us and the server at a restaurant, as we don't speak any languages other than English. Hopefully some translating apps will help with that, or we can learn some words ahead of time! We find that we have to do a little more research in advance to find the vegetarian restaurants. Thankfully, there are so many resources online and other vegetarian/vegan travel blogs to help with this! I would recommend going to the Happy Cow website or downloading the Happy Cow app – it shows all of the vegetarian and vegetarian-friendly restaurants in a particular area, and it can operate using the GPS on your phone! It is quite handy!
8. Which of you is the most adventurous traveler? The daredevil of the two?
We both find that we can be adventurous and a little bit fearful! Justin is a little more afraid of heights than I am, and I'm a little bit more afraid of bugs than he is, haha! I think that I might be slightly more adventurous than Justin (sorry, hon!) – for instance, when our tour got cancelled in Grenada a little while back, I was the one to hop into the taxi for an island tour pretty much without hesitation. Justin said to me, "Should we be getting into this random cab?" and I could tell it would be fine. And as it turned out, it was an awesome trip around the island! I think after that, Justin learned to throw caution to the wind a little bit more. Obviously, we don't want to get ourselves into any dangerous situations, but I think that I have a good sense of when something feels right or wrong.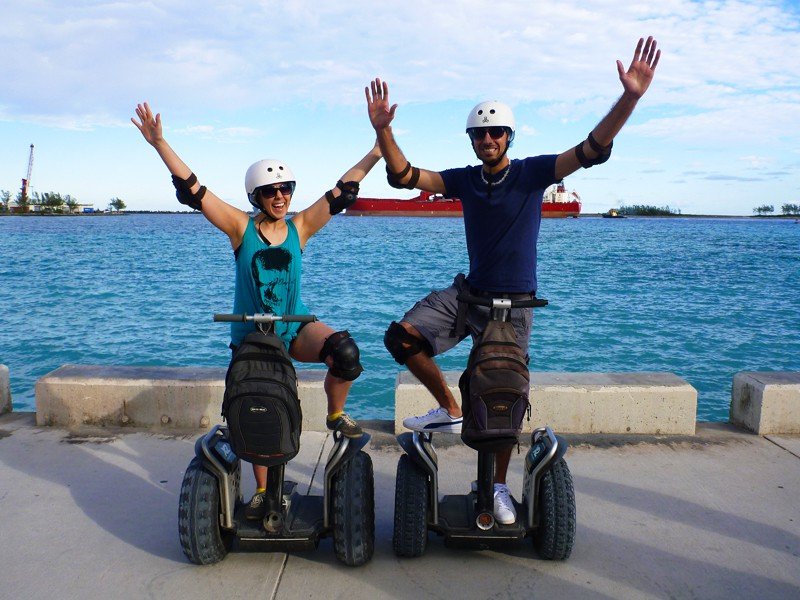 9. What's the #1 item on your bucket list?
Right now, we'd both love to learn how to scuba dive! After snorkeling so much in Bonaire, we vowed to someday return there but have our scuba certification so we could explore deeper waters. We'd love to do more snorkeling, and starting to scuba is on our list of things to try before we visit a tropical destination again!
10. Y'all live in Ontario. What's the best place to visit there?
This probably sounds really obvious, but I would have to go with Niagara Falls. There are so many wonderful places to visit in our vast province, but nothing seems to trump one of the natural wonders of the world! Niagara Falls is just something that you have to witness with your own eyes – it is magnificent! While it is really gorgeous in the summer, I would suggest visiting it in the winter if you can as well. It is so beautiful when it is partially frozen over. Of course, it will be colder, but there won't be hardly any crowds there, either. I would recommend visiting once in the Spring/Summer/Fall, and then once again in the Winter for a second look!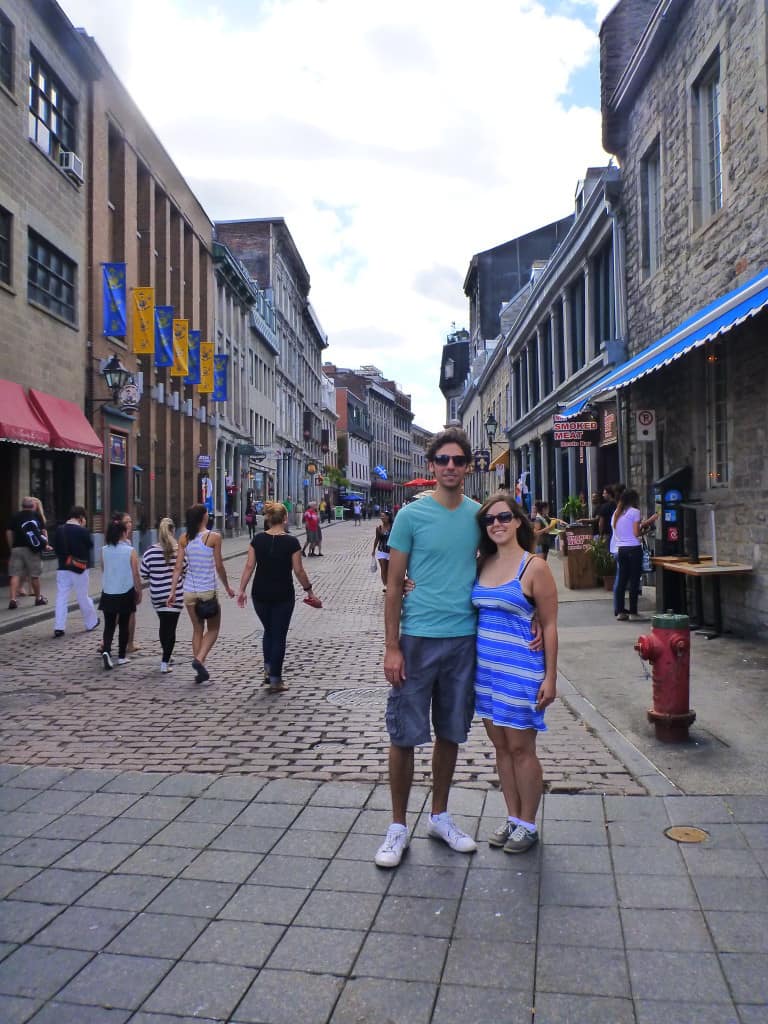 11. Most importantly, where to next?
In a couple of weeks, we'll be off to Quebec City for a few days – we're really excited to explore the old town of this walled city! Then, we'll likely be on day trips around our area or maybe off to the States a little here and there. Our next big trip will be to Italy in May 2015! We can't wait for our first European trip together!
Follow Justin and Lauren…
Latest posts by Ashley Hubbard
(see all)