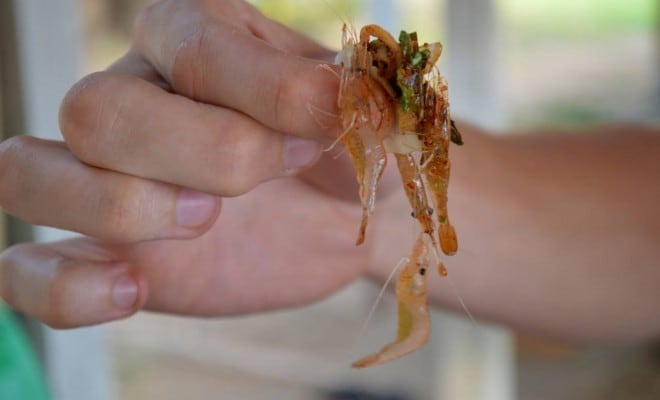 Bizarre Foods from Around the World : Part Two
|
*This post may contain affiliate links, meaning if you book or buy something through one of these links, I may earn a small commission (at no extra cost to you!). Please see my disclosure.
Bizarre Foods from Around the World – Part Two
As I started my blog in September 2013 and only became vegan in May 2016, there are several non-vegan posts pre-vegan era. As an example of how someone can change their path in life drastically, I have made the decision to leave the posts up even though I am ashamed of them. I hope you will take this example and think on it. Also, see my animal activism page or travel page on ideas for ethical animal tourism and vegan food around the world. My inbox is always open should you have questions about changing your lifestyle to better serve animals, our planet, and your own health.
Most people will label something as bizarre or strange when they don't understand it. I think the same goes for cultural delicacies. What we aren't used to eating, we see as weird, but to the people that eat it, it's completely normal.
While some of these truly do gross me out, I'm overly fascinated by cultural differences in food. I reached out to fellow travel bloggers to hear what they had to say was the weirdest thing they've ever eaten and I was so excited the response. Given the positive feedback and extra participants, I decided to do a Part Two.
Ever heard of "goong ten"? Didn't think so! Goong ten, a popular dish in Northern Thailand, loosely translates as "dancing shrimp."That's because it's main ingredient is live, jumping, baby shrimp! When I heard about this dish, I knew I had to try it. The little translucent shrimp are tossed with roasted chili, coriander, and other seasoning, topped with lime juice and served up in a lidded container. Why the lid? Because these shrimp jump right out at you! It's a bit creepy feeling when an antenna or two tickles your nose while chewing, but it's an entertaining eat to say the least! Goong ten stays true to the salty, spicy, and sour flavors of other Thai salads, but I dare you to get past the idea that it's ALIVE!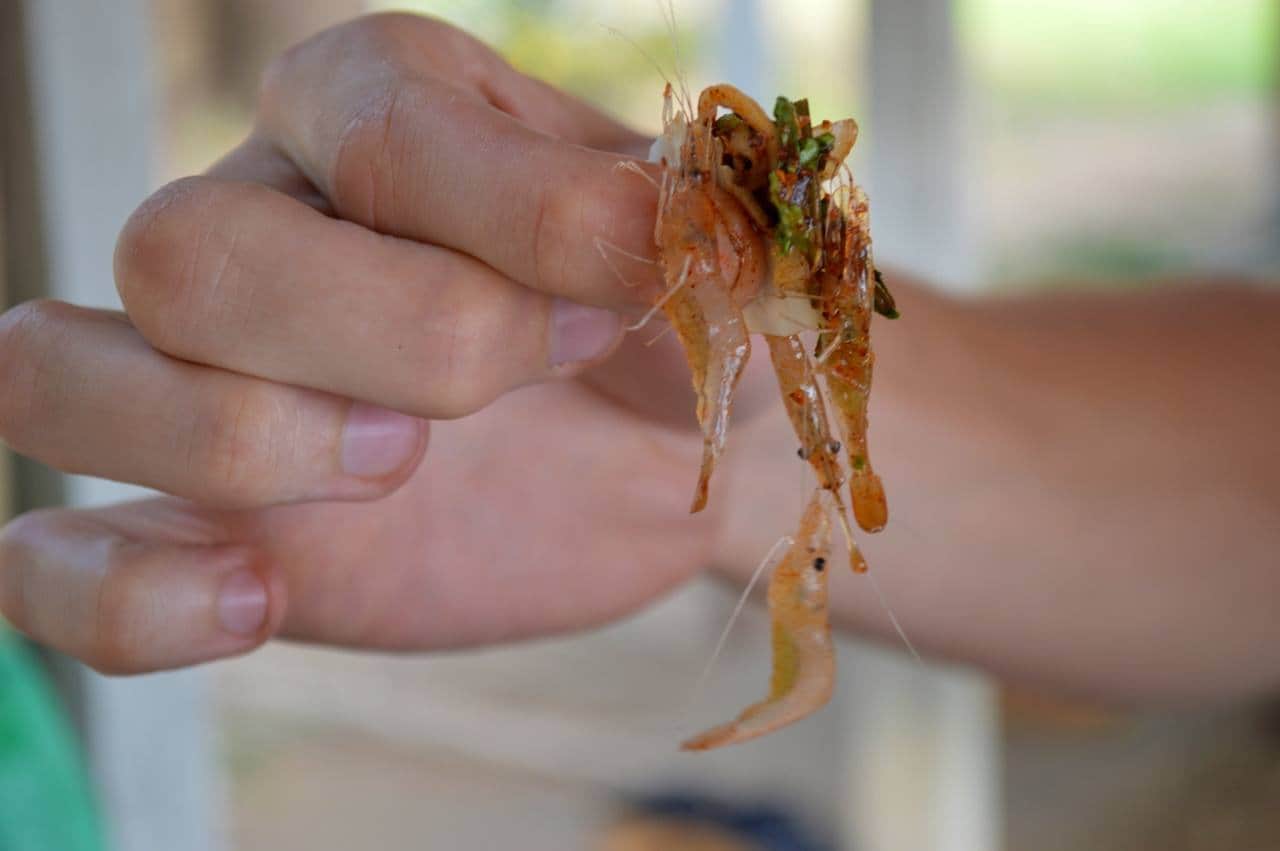 Pig feet is a special dish in Taiwan and China that is served on someone's birthday. Pork is a meat that is served and eaten more among others and eating the feet is supposed to give you vitality. Normally the pig feet are boiled and braised in a soy sauce and vinegar suace so that it is nice and tender and is eaten with long noodles to symbolize a long life. Pig feet are cooked and eaten with the hoof and it has a chewy and a soft meaty texture.
Fried Baby Birds – Gallop Around the Globe
These are fried baby birds of some description, stacked up on a market stall in central Phnom Penh, Cambodia. It was not unusual to see these on a regular basis, along with fried tarantulas. I imagine the meat is a lot more tender than on a fully grown bird, so it's not that dissimilar to us eating lamb or veal, but what is bizarre is the way these birds are presented – whole with their heads still attached, but hanging limply from their bodies where the neck has been broken.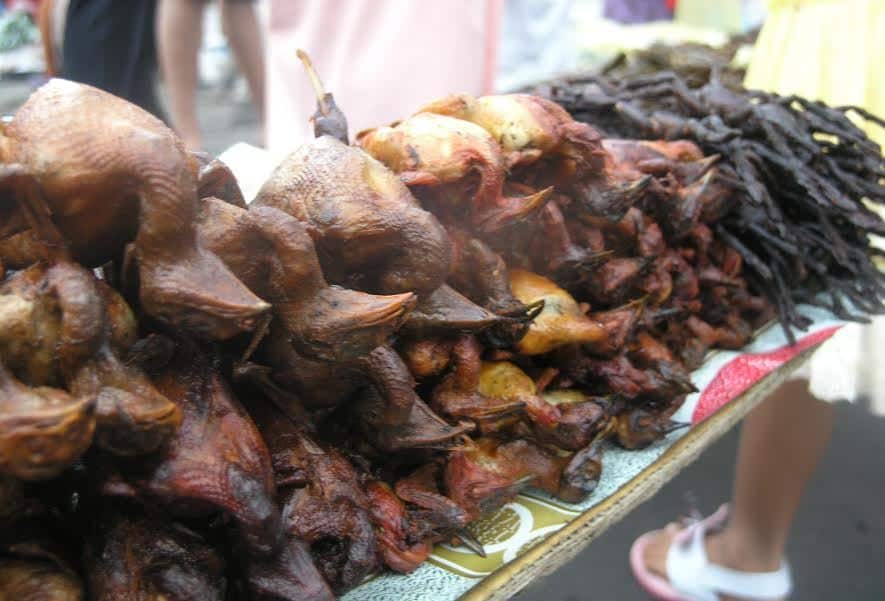 Fruit Soup – Pack Me To
Another strange food item I've yet to wrap my head around is fruit soup. Normally served as a starter, I'm told it is a refreshing way to enjoy something cold and tasty during the summer months. Every Hungarian family makes it differently, using different fruits from sour cherries to different berries to tropical fruits like pineapple and mango. This one contains sour cherry, peach, apple and pear made by the mother of one of my Hungarian friends. My Hungarian boyfriend loves it, but I don't understand why you would ruin perfectly delicious fruit by turning it into a bright pink soup, especially as an appetizer. I've tried it many times, but this is a pass for me.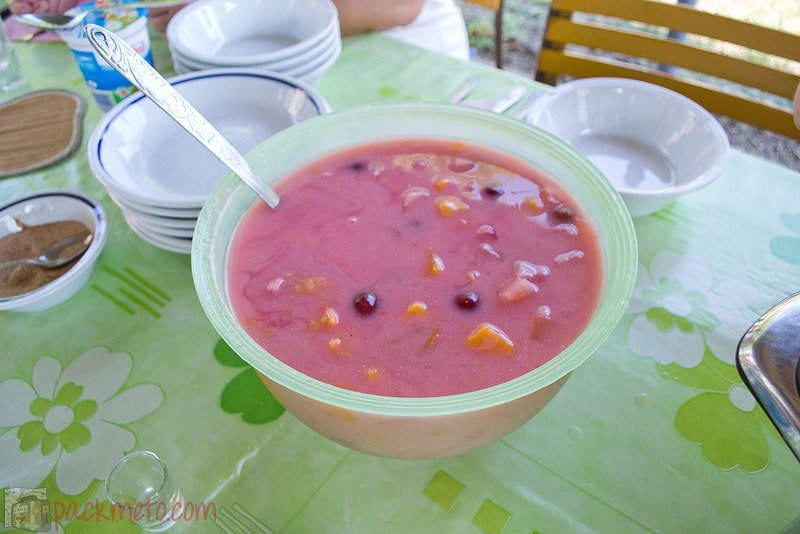 Haggis –NZ Muse
Black pudding, haggis … my husband will eat anything and everything, but I am the complete opposite! While at a small cafe in Edinburgh he ordered haggis for lunch while I tried not to gag at the idea. When it arrived it looked so innocuous on the plate – just like a bit of normal minced meat. I scrunched up my face and sampled a spoonful and to my surprise, it didn't taste much different than the filling of a meat pie. Who'd have thought?
Whale – NZ Muse
Whale and puffin are two of the more unique delicacies you'll find in Iceland. Price and squeamishness ruled out the latter for me, but when we met up with a local friend in Reykjavik and went out for seafood, we wound up ordering a few different items including a whale skewer. I wasn't expecting to like it at all, but it was surprisingly tender and succulent – thumbs up on both taste and texture. That said, once was enough for me – I don't support whaling and I felt quite conflicted about trying whale at all, let alone enjoying it.
I was in China, in a town called Luoyang. The couchsurfer I was staying with, a Thai guy that called himself Lovelush, asked me if I fancied trying scorpion. I am not one to turn down a challenge; during my travels, I have eaten all sorts of things, from guinea pig to bamboo caterpillars.
However, scorpion sounded really weird for some reason, perhaps because I knew it's mildly poisonous. Lovelush reassured me it was fine; scorpions are fried, and the heat makes the poison inactive. So off we went, to a massive food court/shopping centre in the outskirts of Luoyang. A girl in a yellow bridesmaid dress was singing Chinese pop on a stage, dozen of teenagers were dancing along.
Lovelush disappeared for a few minutes, then handed me a stick with three fried scorpions on it. I looked at them for a minute. They were fried whole, claws and stinger and all. I tried the first one. It was the saltiest thing I've ever had, crunchy and vaguely spicy. When I bit into the second one, I was in for a surprise. The stinger went straight to the roof of my mouth, and I felt a strange tingly sensation. I can't say it was pleasant. I don't think I'll have scorpion anytime soon.
Black Pudding – A Brit and A Southerner
As a Brit who loves stereotypical English food, when I hear the concept of bizarre foods it really makes me cringe. You read about all these 'foreign' foods that people classify as delicacies and well, they are really not for me. However, one particular food that I am fond of I don't personally classify as bizarre but I know that many people around the world turn their nose up at – Black Pudding!
Let me tell you a little about the core components of black pudding. It is made of pork blood which is curdled and subsequently boiled, mixed with chunks of pork fat and spices and then stuffed into a sausage casing. Is that enough to gross you out yet? Ok well let me tell you before you start pulling your face that this actually tastes really good. I can't describe it comparable to anything else, it's very unique and as a taste of its own. But it's great served with breakfast or even with malt vinegar as a lunch time snack.
I am actually from Ramsbottom, England which is home to the World Black Pudding Throwing Championships so that's my claim to fame with regards to Black Pudding. North-West England is famous for having some of the best black puddings around so if you are ever planning on taking a trip to England, pay a visit to Bury Market near Manchester and ask for a black pudding with vinegar – trust me, you won't be left disappointed!
Check out Part One which includes some especially tasty items such as Balut, Tarantulas, Cow Brains and Live Octopus.
Which of these would you eat? Which of these would you say hell no to? What else would you add to the list?
Sunday Traveler
Add the Sunday Traveler badge to your post (

badge codes

) & and a link back to one of the hosts. This helps to promote everyone's hard work. Posts without a link back will be removed.

Link up your travel related post. Link ups will always open at midnight GMT on Sundays and be open for 30 hours.

View, comment and share links from fellow bloggers during the week. Be sure to check back to visit the ones who link up after you. Everyone appreciates & loves a comment.

Use the hashtag #SundayTraveler when sharing on social media

Spread the word and come back next week!